Skip to Content
Offering Quality Industrial Footwear Brands in California
Since 1972, Work Boot Warehouse has believed in offering the highest quality industrial footwear brands in California at competitive prices. Catering to the needs of hard-working men and women who need durable and comfortable industrial footwear. Feel free to browse our website to learn more about the premium brands we feature or reach out to us with any questions you may have for our knowledgeable associates.
The Best Men's and Women's Brands at the Best Prices
We have the largest selection of men's and women's industrial footwear in California. You'll find a variety of shoe sizes in our extensive inventory. We typically have women's boots in sizes ranging from 4 to 11 in medium and wide widths and men's boots in sizes ranging from 2 to 18 with medium and wide widths available. Well-trusted brands we carry include:
Ariat®
Avenger Work Boots
Carhartt Footwear®
Carolina®
Caterpillar®
Dansko®
Dr. Martens
Genuine Grip®
Harley-Davidson Motorcycles® Footwear
Irish Setter™
Justin Boots®
Keen® Utility
Mellow Walk
New Balance
Nicks Boots
Reebok®
Sketchers® Work Footwear
Thorogood®
Timberland Pro®
Wesco Boots
Whites Boots
Wolverine®

These Boots Were Made for More Than Just Walking
From steel-toe safety boots to hiking, motorcycle, insulated, waterproof, chemical-resistant, and slip-resistant footwear, we have everything you need under one convenient roof. If you work or play hard, you need the appropriate footwear to protect yourself from the risk of injury. We're dedicated to providing different kinds of footwear suitable for various recreational activities and industries, including construction sites, warehouses, restaurants, grocery stores, and more. However, you deserve to look stylish while feeling secure. That's why you'll find the most durable and reliable – as well as aesthetically pleasing – brands in our inventory. These boots were made for so much more than just walking!
We Have Multiple Locations and ShoeMobiles to Serve You
Work Boot Warehouse has expanded our family-owned operations over the past 50 years to include several California locations to serve your quality industrial footwear needs. Visit us in Gardena, San Bernardino, Canoga Park, or North Hollywood today. We even have a store located in Ontario, California, to serve the needs of our friendly, hard-working neighbors to the north.
If you own a large business, you may also be interested in our ShoeMobile program. We'll bring our shoe store directly to your job site, so your workers can be professionally fitted without the inconvenience of visiting our stores. At this time, we provide our ShoeMobile services throughout California, Arizona, and Nevada. Tiered corporate pricing means your workers will get everything they need without breaking the bank. Online purchase orders and consolidated billing ensure a smooth shopping experience for all. Reach out to us today with any questions or to request our ShoeMobile services!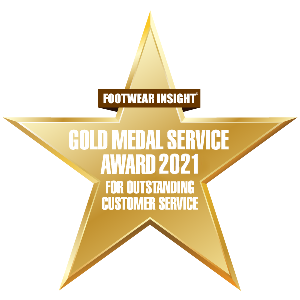 "Local Retailer Wins Gold Medal Service Award"
"Customer Service is the best way that independent shoe stores can win out over bigger stores and online competitors," said Jennifer Ernst Beaudry, editor of Footwear Insight, a leading trade publication serving the footwear industry. "It's also the best way stores can take care of their customers and build a loyal following."
"Work Boot Warehouse" should be very proud of their achievement and prouder still to share it with their shoppers and their community," Beaudry said. "We evaluated more than 120 stores and those that made the list represent the absolute best of those stores."
Shop at Work Boot Warehouse
Contact Us Today for More Information