Skip to Content
Mens Hiking
Hike and Camp Safely and in Comfort
You need a hiking boot capable of tackling the rolling hills and streams safely and comfortably. Work Boot Warehouse is a leading retailer of brand-name hiking boots at prices all Southern California residents can appreciate. We've helped our customers since 1972.

Slipping on a pair of Ariat® outdoor boots will turn the weekend warrior into a mountainside- and trail-conquering hero. These boots feature moisture-wicking lining and GORE-TEX® membrane construction. They also feature extra shock absorption.

Are you looking for a beast of a hiking boot capable of handling even roughest terrains? Look no further than Thorogood®'s line of outdoor and hiking boots. 3M® insulation, waterproof construction, and ultra-comfortable footbeds are Thorogood® trademarks. Most importantly, they feel like athletic shoes.

Timberland Pro® offers numerous hiking boots that feature slip-resistance and their patented Pro® footwear design.


Wolverine® designs its work boots to reduce foot fatigue on high-exertion jobs, so they'll handle the trails just fine.

Blue-collar workers place their trust in the Caterpillar® brand for a reason. Their breathable, flexible, and durable work boots double as functional hiking boots.
Dr. Martens
Choose from several Dr. Martens to act as your next pair of hiking boots. They offer waterproofing and slip-resistance as crucial traits.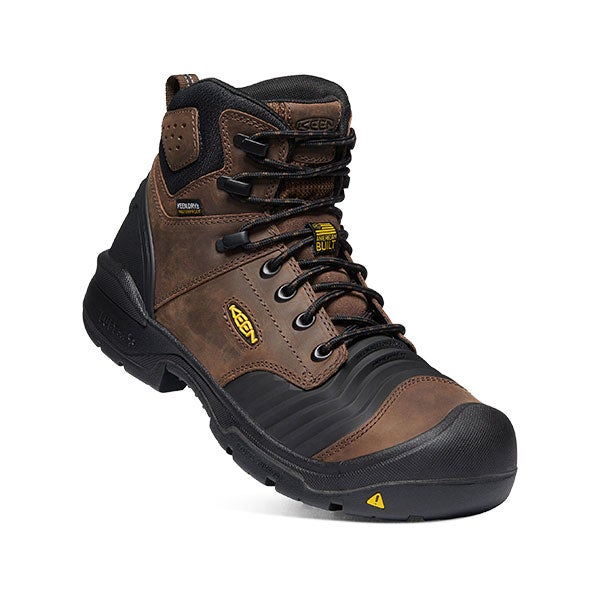 We are proud to sell Keen's line of ultra-waterproofed boots. They handle trails just as well as they do job sites.

Take a look at our selection of Carolina®-produced work boots. We believe their built-in features make them ideal for hiking conditions.

As a highly-respected and well-known brand, Carhartt® is the perfect choice for any avid hiker and camper. You'll be dryer, safer, and more comfortable on the trails.
Shop at Work Boot Warehouse
Contact Us Today for More Information