Skip to Content
Womens Motorcycle
Our Durable and Stylish Motorcycle Boots
Work Boot Warehouse proudly sells numerous women's motorcycle boots to Southern California residents. Motorcycles present dangers that cars don't, but we can help keep you safer by providing the shoes you need to stay safe – and look good doing it.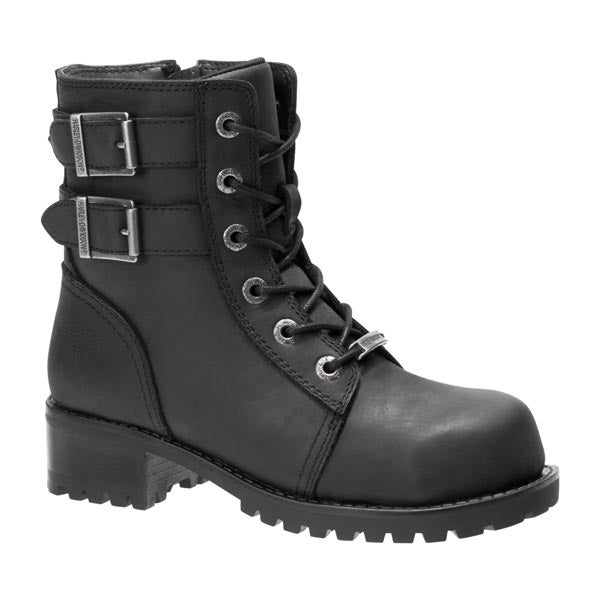 Wolverine® makes a fantastic motorcycle boot for women featuring innovative Goodyear welt construction and slip-resistant design. Since 1972, Work Boot Warehouse has partnered with Wolverine® to outfit bikers with cool and safe footwear.

Women who love motorcycles can slip into a stylish and rugged pair of boots from the famed manufacturer of motorcycles – Harley-Davidson. We've got a bevy of selections to choose from.
Dr. Martens
Women who ride a motorcycle – just like men – want to balance style and safety in equal measure. At Work Boot Warehouse, you can find a wealth of options from Dr. Martens. Try a slip-resistant, steel-toe boot, which will protect you while you ride.

Thorogood® offers job-ready work boots, and those boots are just as capable of handling the vast, open roads. Motorcycle enthusiasts can enjoy riding in their new Thorogood® boot, bought at discount prices from Work Boot Warehouse.

Waterproof, insulated, and steel-toe boots are a must for women who ride a motorcycle. Timberland Pro® has several women's boots that fit the bill. Because Timberland Pro® is such a fashion-forward brand, you can find a pair at our store that matches your sensibilities.

Caterpillar® is a trusted brand that delivers comfort, durability, and trustworthiness in surprisingly light packages. While some women's Caterpillar® boots might look bulky, they are anything but. Instead, this brand creates stylish and lightweight motorcycle boots. Visit one of our Southern California locations and take one for a spin.
Shop at Work Boot Warehouse
Contact Us Today for More Information