Skip to Content
Womens Safety Toe
Decrease Your Chances of Injury With Safety-Toe Boots
Safety-toe boots are a must for any woman who works in a demanding environment where heavy objects can fall at a moment's notice. Safety-toe boots feature composite or steel materials on the toe and protect against broken bones, cuts, and even burns. Investing in a pair of steel-toe boots can prevent injuries that cause you to miss work.

Wolverine® is well-known for providing a range of steel- and composite-toe boots. For instance, they produce low-, mid-, and high-top steel-toe boots, as well as four versatile composite-toe options. We have all of them in stock at our stores.

For women who require a durable boot with steel- or composite-toe design, Caterpillar® is an excellent choice. We understand how important variety is to our customers, so we are proud to offer this brand's full range of boot options.


We are proud to carry Timberland Pro® products. They produce several boots, from alloy-toe high-top work boots to steel-toe varieties, and they come in a range of styles and colors.
Dr. Martens
Dr. Martens makes several boots perfect for women who require steel-toe protection while on the job. As always, Work Boot Warehouse is committed to providing them at affordable discount prices.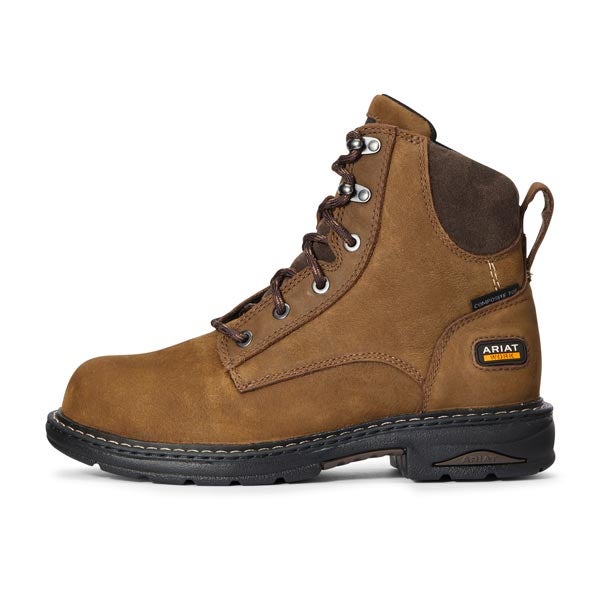 Justin Boots®
If it's flair you're after – in addition to a steel-toe – then consider visiting one of our stores for a Justin Boots® steel-toe shoe. They create safety-toe boots that also emphasize style. We carry all women's sizes in our store.

At Work Boot Warehouse, we try to find brands that provide a vast array of styles and sizes. Ariat® fits the bill. You can find composite toe work boots and high-top, cowboy boot-style steel-toe options in all sizes at our store.

Women who work on job sites and in other demanding environments should always wear a pair of durable safety-toe boots. Carhartt® is one of the best in the game. We are proud to carry composite- and steel-toe boots from Carhartt®.

Work Boot Warehouse sells a lot of Mellow Walk safety-toe boots and shoes. Many of our customers need the protection a steel-toe boot provides, but they don't want drab-looking footwear. Visit our store and try on a pair of steel-toe Chukkas, Skaters, or Slip Ons.
Shop at Work Boot Warehouse
Contact Us Today for More Information